NEWS
Max Weinberg Departs From Team Coco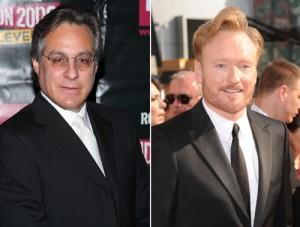 Sad news on the Team Coco front. The partnership that was Conan O'Brien and Max Weinberg on NBC's Late Night and Tonight Show is no longer. The longtime late night band leader, along with everyone's favorite ginger co-host, officially announced that Max would not be following Conan to TBS.
"Max has been a huge part of my life for the past 17 years and he is an incredible band leader and musician. I hope he can find time to stop by the new show, sit in with the band, and pretend to find my monologue funny," Conan said in a joint statement released today.
Article continues below advertisement
Max expressed that his 17 years with Conan marked "a lifetime on TV," adding, "making music with Jimmy Vivino, Mark Pender, La Bamba, Jerry Vivino, Scott Healey, Mike Merritt, and percussionist James Wormsworth enabled me to become a better musician and bandleader. I thank them for their first rate work on the bandstand. I wish Conan and his show the best and I do look forward to dropping by."
Jimmy Vivino will be taking over as Conan's bandleader on his new TBS late night show Conan, which premieres on Nov. 8.
Catch the old Late Night with Conan O'Brien theme song, led by Max and his crew!