NEWS
Meet '30 Rock' Star Judah Friedlander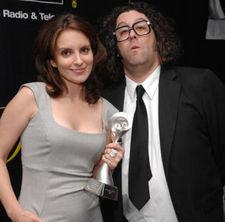 Judah Friedlander stars in Meet Dave, which is in theaters now.
"I play the engineer of a spaceship," the 39-year-old actor tells me. "I'm about this tall in the movie. I love effects movies."
When he's not doing standup comedy or starring in movies, Judah plays Frank Rossitano on the Emmy, Golden Globe and Peabody Award-winning comedy 30 Rock.
"Tina Fey is really cool," he tells me. "She's so mellow and laidback. She's doing a million things at once and it doesn't bother her somehow. She has lunch in the big cafeteria with all the crew. So does Alec Baldwin, so does everyone. There's no attitude. No one's off in their trailer just being by themselves. Everyone's with everybody."
Article continues below advertisement
What's his favorite thing to eat in the 30 Rock cafeteria?
"They always mix it up. I'm trying to watch the weight, and it's hard because they always have such good stuff there. You could just eat all day. It's pretty rough. I can't resist anything. They have cookies out all day, desserts. If we shoot real late – often we do 14, 16-hour days – they'll order in pizza. You can just eat a whole pie of pizza. You've gotta be careful. You can put a lot of weight on filming 30 Rock."
Who is his dream guest?
"Al Pacino as Tony Montana in Scarface," he tells me. "That would be cool if he came back from the dead. I'm a big Pacino fan. He's a great actor, so much passion and intensity."
After hours, he kicks back with horror films and names Let's Scare Jessica To Death and the original Stepfather as his favorites. He also makes his own hats. "I've made them for ten years," he says.
Meet Dave is in theaters now.