NEWS
Meet the cast of The Real World: Brooklyn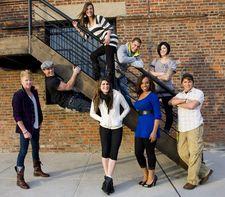 I've got a confession to make. I wanted to live in the MTV Real World house. Really. I even applied for a season ages ago (stop laughing)…
So when I got the invitation to meet the cast of The Real World: Brooklyn, which kicks of its 21st round of strangers living together tonight, at their Real World abode, I jumped on it.
For the first time ever, there are eight cast members sharing that converted warehouse space on the shores of Red Hook, a cool area in Brooklyn, N.Y.
Article continues below advertisement
That includes a colorfully-dressed Mormon, who is often mistaken for being gay; an outspoken military vet, a beauty queen and a dolphin trainer. This season also introduces the first transgendered person to live in the Real World house.
After checking out the bedrooms (Katelynn's and Devyn's would have totally been mine!), freshening up in the bathroom with the see-through shower doors and chowing down on a sandwich in the open floor-plan kitchen, I got down to business to finding out what makes this season's cast so real.
(from pic bottom counter-clockwise)
Chet, 23, is a funky-dressed Mormon from Salt Lake City, Utah.
On being mistaken for being gay: My Dad even jokes about it. I don't think it's a bad thing, and I'm comfortable with my sexuality. I like to dress up, and if that means that I'm gay, I think there's something wrong with society. You can't pinpoint someone's sexuality on what they're wearing.
On being a virgin: The first time I want to have sex, I don't want it to be in front of the camera – maybe the second or third. (laughs) I've had the opportunity, but it's my own personal choice, so I just don't get myself into those situations.
Article continues below advertisement
Scott, 23, is a personal trainer from Salem, N.H.
On getting your abs in killer shape: Get on your knees, grab the bar behind you on the cable and bring your elbows down to yours knees. It allows you to arch your lower back and contract your abs to twist and turn on your core.
On his relationship with Devyn: It's pretty interesting. We start off as great friends. We have our bumps through the season. You get to see all of that.
Katelynn, 24, is a computer geek from West Palm Beach, Fla.
On reason for doing the show: I thought I was the antithesis of everything they were going to cast. I had a serious job in corporate America, and I was paying off a mortgage. I never honestly expected to be cast. I thought I could go back and live my life, or I could represent an entire community instead.
On what she wants viewers to get from it: My main purpose was to destigmatize the "trans" label. Throughout the nineties, the idea of a transgender was a Jerry Springer freak show. I really want normalize it, and to let people know that may be what I am, but it's not who I am. I'm very driven and I've got problems and relationship issues, just like everyone else.
Article continues below advertisement
Devyn, 20, is a beauty pageant winner from Kansas City, Mo.
On the house's crazy showers: Being African-American, I definitely believed I was more easy to see through them. I learned to make sure you lock the door because the boys loved to come in and open the door randomly. Chet liked to go to the bathroom with the door open. You learn to get up very early and take a quick one when no one is around.
On her Real World crush: Scott is obviously a very attractive person. Proximity is one of the number one factors in a relationship, so I narrowed down what I had to work with. I'm not going to give anything away, but I will tell you our relationship goes in a direction that no one would have foreseen.
Ryan, 23, is an Iraq military veteran from Gettysburg, Pa.
On meeting Katelynn: It was my first introduction with a transgender. She hadn't said anything, so I wasn't sure if it was a boy or a girl, or how I should refer to him or her. It was weird for me because I have never been exposed to the situation, and I said to myself, "Okay, a lot of new things are going to be coming my way with this opportunity, and I want to learn more."
Article continues below advertisement
On the troops in Iraq: Honestly, I'd like to see everyone out of there, and to bring all our people home.
Sarah, 22, is a sexual victim abuse advocate from San Francisco, Calif.
On her reason of being on the show: I have one of those stories to tell about overcoming obstacles. I wanted to show people that you can go through a traumatic event and you can come out of it a survivor, rather than a victim.
On finding true love: When you find that person that you love, you wait years for them. And I love my boyfriend more than anything in the world; he's the man I'm going to marry. You can walk the hottest guy -- or girl -- right by me, and I wouldn't even see them.
J.D., 22, is a dolphin trainer from Miami, Fla.
On why he wanted the Real World experience: I didn't have the easiest life growing up. I have five brother and sisters, we all had different fathers. I left when I was 13, and I put myself through college. I wanted this experience because I wanted the family I never had before.
Article continues below advertisement
On his cool job: I didn't just work with dolphins, I worked with Beluga whales. I took a year off a college and worked at Sea World. I've always wanted to work with animals since I was a little kid. You don't make a lot of money, but it's a very rewarding job.
Baya, 21, is a hip-hop dancer from Salt Lake City, Utah.
On her dance experience: I started dancing at a late age, so I have very little technical training. Coming here, I aspired to be a professional dancer. Am I there yet? No. And I'm training to get myself there? Absolutely.
On her professional dance dream opportunity: I love Ciara. If I could dance for anybody, it would be Ciara. If I could go on tour with her, it would be awesome. If she's looking for a white best friend, give me a call!
The Real World: Brooklyn premieres Wednesday, Jan. 7 at 10 p.m. on MTV.