NEWS
Meet the New Bachelor!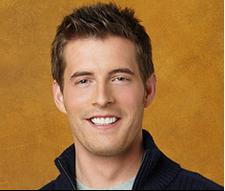 To the men of America — keep an eye open because there's a 6'5" British hunk crossing the Atlantic to steal your women as the next Bachelor! His name is Matt Grant, and he's a global financier who was introduced to the world on Monday night's episode of Dance War: Bruno vs. Carrie Ann.
OK! got the 27-year-old stud to chat about the upcoming 12th season of The Bachelor, which premieres March 17.
Matt's reason for wanting to be the object of desire for 25 gorgeous gals? "I'm a single guy, I'm a red-blooded male," he explains to OK!. "I have the opportunity to date hot American women. Enough said."
Article continues below advertisement
The Londoner jokes that what separates him from his American counterparts is "the geeky accent." He adds, "I don't think there's a massive chasm between British guys and American guys. We drink more tea and have some crazy sports like cricket. I like to consider myself a British gentleman."
He's looking for a woman "to make me laugh and someone who is very social, close to family and friends and someone who is smart, who can challenge me. American women are much more sporty than British women. I love their flirty side."
But career-minded applicants beware — this hunky financier would want his chosen bachelorette to become a mom fairly quickly. He's the youngest of five brothers and his father Tony, now 71, was an older father when Matt was born. "I'm ready to start a family," he says. "Dad had a stroke at the end of 2006 and that really shook me. I want my kids to know my father, because he was a great father to me and I want him to be a grandfather to them. I wouldn't mind having three or four kids."
Article continues below advertisement
Surprisingly, Matt confessed to OK! that he's never seen The Bachelor because it's only shown on satellite in the UK. "I was coming into this a little bit fresh and free from any constraints that might hit me from watching it."
While he gets accustomed to American TV, Matt is still loyal to his favorite UK magazine. "I love OK!" he says.
Watch for the season premiere of The Bachelor, March 17 on ABC.