NEWS
Meet SATC's Newest Hunk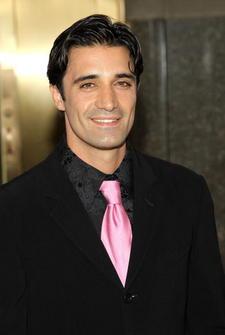 Move over Smith Jerrod, there's a new hunk turning heads in the Sex & the City movie — And OK! was able to sit down with the hottie for an exclusive chat.
In the blockbuster new film, Gilles Marini plays Dante, sexy neighbor to Kim Cattrall's character Samantha. But before he ever stepped foot on the set, the European eye candy admits to being a fan of the original HBO show.
"I've been watching for some time," he tells OK! "You know how much inside scoop we get from watching!"
Article continues below advertisement
And even though this native of Cannes, France, bares all — yes, all! — in the SATC film, Gilles' wife of more than nine years couldn't be more thrilled.
"Don't forget, she's French," he jokes. "French people handle sexual things much better than anywhere else in the world, and I told her right away that I have this sex scene and said it was well shot. She said, 'Tell me about it.'"
When working with the women of the HBO hit, who wouldn't want to know more. "I really just worked with Kim Cattrall," he explains. "You hear a lot of good things about all of them, but Kim was fantastic with me. She was really giving, and had great stories."
On camera, Gilles may be the sultry guy stealing the scene, but off-camera, he is the doting father of two. "I wouldn't be the man I am today without my kids," he says. "I had my first child when I was 22. And now I'm 32; my son is 9 ½. A lot of people thought I was crazy, but in the end, you look at them and they save you."
One of the favorite things Gilles loves to do with his son is take him to the L.A. Galaxy soccer games where David Beckham holds court. He recalls one instance when his son got to meet the soccer legend and laughs. "I asked David how he was doing, and he told us that he'd hurt his knee," he explains. "My son looked at him and said, 'My dad hurt his knee too, and he is still playing!"
Article continues below advertisement
He may be the coolest guy in his son's life right now, but Gilles doesn't see that lasting very long. He admits, "Five years from now, he will probably see the movie and look at me and say, 'Daddy!'"
As for his two-year-old daughter, he knows living in L.A. will catch up to her quickly so he jokes, "I'll move to the mountains!"
For now, Gilles is enjoying the spotlight in the Sex and the City movie now or as OK!'s Man Candy in this week's issue on stands tomorrow.