NEWS
Meet the Top Chef Masters in OK!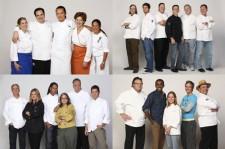 Top Chef Masters' latest all-stars are primed for a culinary battle royale. Here, they dish their best secrets to their cooking success.
Bravo's newest Top Chef Masters contestants possess some of the finest food skills in the world — and they'll need them. Starting April 7 at 11 p.m., these culinary geniuses will battle in four eliminating rounds, with only two emerging from each. After that, the competition heats up: The remaining eight are whittled each week until a master of Masters is crowned. To be a winner in your kitchen, check out the gallery of master chefs to learn the tricks of their trade!
Article continues below advertisement
By Ashley Muldoon
FOR MORE NEW & PICS OF ALL YOUR FAVORITE CELEBS, PICK UP THE NEW ISSUE OF OK! — ON SALE NOW!