NEWS
Megan Fox: "I'm a Tranny!"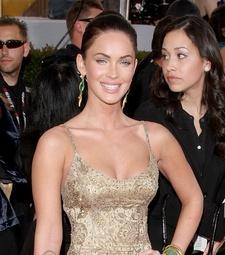 Megan Fox is probably one of young Hollywood's most beautiful actresses--and yet she's the only one who doesn't seem to know it.
"I'm a tranny. I'm a man," Fox joked to E!'s Giulianna Rancic on the red carpet of Sunday night's Golden Globe Awards. "I'm painfully insecure, like I'm on the verge of vomiting right now, I'm so horrified that I'm here, and embarrassed, I'm scared."
The Transformers star didn't stop there! Fox, 22, kept watching the monitor on the red carpet and admired more than a few of her favorite actresses.
Article continues below advertisement
"I love that you're looking at Salma Hayek," Rancic told the actress, who replied, "I want her boobs! Those are the most amazing boobs. Perfect."
Noticeably absent from Fox's side was her long time beau, Brian Austin Green.
"He doesn't want to be here," she explained. "You know, he doesn't want to be my date. He's a man. He has an ego."
This was Megan's first trip to the Golden Globes and, when asked about her diet regime in preparation for the big night, she held nothing back.
"Well, I do have a 22 inch waist, I will say that. But, I basically starve myself for a month. I'm kidding, I did a lot of pilates. An immense amount of pilates."
Gotta love the honesty!