NEWS
Megan Fox on Sex, Zombies and Why Meeting Brian Was Magic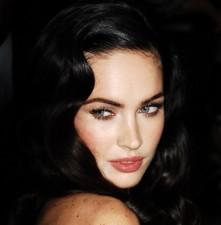 Megan Fox is famed for being sexy, outspoken and a little weird. But is the Transformers star ready to reveal the woman behind the unpredictable persona? In a no-holds barred interview with the New York Times, Megan, 23, discusses being a sex symbol, why Jennifer's Body was a box office bomb and her love for Brian Austin Green.
On being addicted to reality shows including Jon & Kate Plus Eight, Ghost Hunters and Say Yes to the Dress.
Article continues below advertisement
"I don't know why I love it, but I do. It's really confusing to me, so I study it. They all cry when they find the dress. I don't understand why they all cry."
On Jennifer's Body failing at the box office.
"People expected Jennifer's Body to make so much money. But I was doubtful. The movie is about a man-eating, cannibalistic lesbian cheerleader, and that pretty much eliminates middle America. It's obviously a girl-power movie, but it's also about how scary girls are. Girls can be a nightmare."
On using her sex-symbol status to get ahead.
"If I had been a typical starlet and said all the right things, I wouldn't have escalated to this level. I sit down and do an interview and I talk like a person and that, for some reason, is shocking. All women in Hollywood are known as sex symbols. You're sold, and it's based on sex. That's O.K., if you know how to use it."
On the cost of creating her outspoken persona.
Article continues below advertisement
"It's been a crazy year. I've learned that being a celebrity is like being a sacrificial lamb. At some point, no matter how high the pedestal that they put you on, they're going to tear you down. And I created a character as an offering for the sacrifice. I'm not willing to give my true self up. It's a testament to my real personality that I would go so far as to make up another personality to give to the world. The reality is, I'm hidden amongst all the insanity. Nobody can find me."
On being compared to Angelina Jolie
"People compare me to Angelina Jolie, and she's so serious and stoic. I'm the opposite. When I do interviews, I say things that I think are hysterical. But because we live in a world of sound bites, you're not allowed to have a sense of humor. Sarcasm doesn't translate in print at all. And neither does self-deprecating humor. I'm not a tigress like Angelina. Of course, people want me to be. But I want to be the contradiction of that."
Article continues below advertisement
On comparing her Transformers director Michael Bay with Hitler.
"I got myself in this whole mess. But it doesn't matter. I know that the things they said about me in the crew letter were not true, but Michael Bay is not happy with some of the things I've said about him. I was waiting for someone to defend me, to say, 'That's not accurate,' but nobody did. I think it's because I'm a girl. They left me out there to be bludgeoned to death."
On meeting fiancé Brian Austin Green on the set of Kelly Ripa's sitcom Hope & Faith.
"Brian played himself. Kelly Ripa's character was kidnapping him for some crazy reason. I didn't know who he was from 90210, but I liked him right away. Everyone was around the monitor watching a scene, and Brian accidentally touched my leg. I remember literal electricity shooting through me and out me from every direction. It was like magic."
On refusing to get naked for sex scenes.
"I had my first sex scene in Jonah Hex. I had on underwear and silicone covers that you wear over your breasts. I would never be naked in a film. You should never say never, but my body parts are all I have left that are only mine. The world owns everything else."