NEWS
Mel B Shows Off Her Incredible Post-Baby Body Six Months After Giving Birth!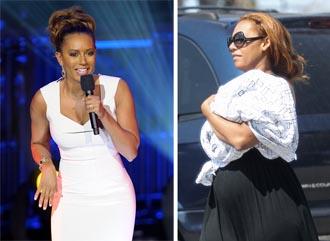 Melanie Brown, aka Mel B of the Spice Girls, showed off her rockin' post-pregnancy body last night at the Caesars Entertainment Escape to Total Rewards concert at Gotham Hall in New York.
Mel B hosted the event, which featured performances by Mariah Carey and Diddy.
OK! GALLERY: MARIAH CAREY PERFORMS AT GOTHAM HALL IN NYC WITH HUSBAND NICK CANNON BY HER SIDE
The new mom, who welcomed her third daughter Madison in September, looked incredible in a skin-tight white gown on stage — we can't believe how amazing she looks just six months after giving birth.
Article continues below advertisement
Another new mom who looked awesome was Mariah, who wore a tight black, mermaid style gown and was accompanied by her husband Nick Cannon.
OK! GALLERY: MEL B AND NEW BABY SPICE UP THE PERTH FASHION FESTIVAL
Both Mel B and Mariah slimmed down with help from the Jenny Craig program. Mel lost 33 pounds in just 20 weeks after gaining 66 pounds during her pregnancy.
She's back in shape and looks ready to head back to to the stage — Spice Girl reunion part two anyone?