NEWS
Mel Gibson Curses at a Reporter Live on Air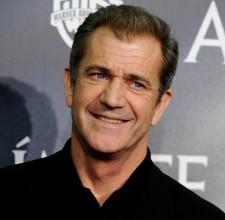 Mel Gibson is getting really sick of discussing his controversial past. So much so that he was busted muttering a profanity during an interview with a Chicago entertainment reporter.
Dean Richards, an entertainment reporter for Chicago's WGN-TV talked to the actor, who is promoting his new action thriller Edge of Darkness, via satellite on Tuesday.
Article continues below advertisement
But Mel — who gamely introduced a Golden Globe after host Ricky Gervais made a crack about his hard-drinking ways — lost his cool after Dean asked, "Do you think the public will perceive you any differently after all that's been in the news about you?"
Mel, 54, was arrested in 2006 for DUI — an incident that became notorious for the actor's anti-semitic comments.
"That's almost four years ago, dude," Mel replied, after an uncomfortable silence. "I've done all the necessary mea culpas. Let's move on."
As Mel ostentatiously swigged coffee from his takeout cup, Dean wrapped up the interview. But before the satellite feed went dead, Mel said, "Bye-bye," before adding his last word: "a**hole."
Watch the tense interview HERE.