NEWS
Mel Gibson Says He Only Slapped Oksana Grigorieva One Time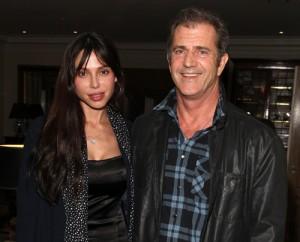 In the custody fight with Oksana Grigorieva, Mel Gibson's sworn declaration reportedly states Mel admitting to slapping Oksana during an argument, but he denies hitting her.
OK! GALLERY: OKSANA'S ATTORNEY JOURNEYS
Oksana claims Mel punched her in the temple and mouth during a fight with Mel the night of Jan. 6, but Mel's account is very different.
According to the declaration, obtained by TMZ, made June 23 and filed in court, Mel says the two were arguing in his home when Oksana grabbed their daughter Lucia and screamed, "Stop yelling or you will make her into a retarded brain damaged idiot!"
Article continues below advertisement
Mel then says Oksana ran outside with Lucia, he asked her to come back in and she ran into her son's room and "started swinging Lucia erratically in her arms, jerking her body from side to side to keep Lucia out of my reach."
OK! NEWS: OKSANA GRIGORIEVA CLAIMS MEL GIBSON CHEATED; NOT FIT FOR CHILD VISITS?
He says she was "hysterical" and her "rapid movements were causing Lucia's little body to be flung from one side to the other, her head shaking violently" causing him to fear Shaken Baby Syndrome.
Mel says she continued with "rough and erratic movements" and "I slapped Oksana one time with an open hand in an attempt to bring her back to reality. I did not slap her hard, I was just trying to shock her so that she would stop screaming, continuing shaking Lucia back and forth."
"I did not hit Oksana with a closed fist, as she alleges," he adds. "I did not ever punch her in the face or in the temple or anywhere else, not then or at any other time."
MORE ON:
Oksana Grigorieva
Article continues below advertisement
OK! NEWS: ZACH GALIFIANAKIS COMMENTS ON MEL GIBSON HANGOVER 2 CONTROVERSY
"While I do not believe I handled the situation as well as I should have, I was worried about the rough way Oksana was shaking and tossing Lucia around," Mel explains. "My hand never touched any part of Lucia."
"There was never any blood on Oksana and none of her teeth were 'broken,' although one of the false veneers from a tooth apparently did come off, I did not see that occur at the time," he said.
Mel's side of the story, according to TMZ, could be his defense to a domestic violence charge.