NEWS
Mel Gibson Talks Britney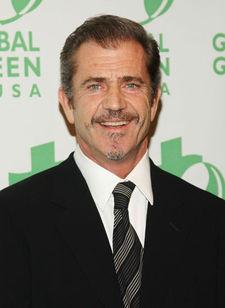 When Mel Gibson arrives late for Global Green USA's Sustainable Design Awards held at NYC's Pier Sixty on Wednesday, the press whips into a frenzy. The Oscar winner poses for photos, and tries to escape without answering the questions that are flying at him.
"What brings you out night?"
"I'm here to support my friend Bernard," the soft-spoken actor, who is wearing heeled boots, says.
"Why is Global Green important to you?"
Article continues below advertisement
"It's a really good thing and a beneficial thing for the planet, and for some people who are less fortunate than us," the Lethal Weapon star says.
He's on the move, so a throng of TV cameras and print reporters continue the pursuit to get the quote that really matters.
"Are you proud of Britney for turning her life around?"
"She's great," Mel says. "She's a sweet girl."
It's a relief that Mel is willing to go there because David Hyde Pierce isn't so game. After peppering him with questions about the event, and how he goes green in his daily life, it's time to strike with the TomKat question thinly veiled as "Have you seen All My Sons?"
MORE ON:
Red Carpet Confidential
"Uh, yes, but now I think we're talking about other things, and I'm really here to talk about Global Green," he says.
All right, how does he go green?
"I try to be as responsible as possible in my every day life," David says. "My dad taught all of us when we take a shower to turn on the water to get wet, and turn it off to soap up. I've always done that. I drive hybrid cars and try to be responsible with air conditioning and heating."
Katie Couric slides into the event fresh from the CBS Media Party, where OK!'s TV Fanatic blogger Delaina Dixon compliments her on her black-and-white ensemble. "Thank you," Katie graciously responds.
Global Green USA's Sustainable Design Awards raises $450,000 to support programs that combat climate change and help low-income communities become environmentally friendly. Habitat for Humanity, rebuilding New Orleans and creating green schools across the country are among projects that benefit.