NEWS
Melanie Amaro Wins 'The X Factor'!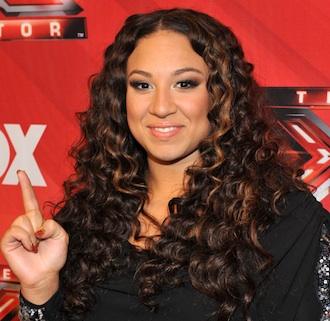 Simon Cowell sure knows talent when he sees it. On Wednesday night's first part of The X Factor finale, he predicted his mentee Melanie Amaro was going to win the talent competition. Well, last night during the second part, she nailed it and went home with the $5 million recording contract and a starring role in a Pepsi commercial!
OK! GALLERY: THE X FACTOR MENTORS & FINALISTS PREPARE FOR THE GRAND FINALE After host Steve Jones declared her the champion, she repeatedly said, "Oh my God. Oh my God. Oh my God." The emotional winner was virtually speechless as she fought off tears to belt out Beyoncé's "Listen." Simon managed to state, "I want to say, 'America, thank you for giving this girl an opportunity.' " Josh Krajcik sang "At Last" for his final song, but the single dad came in second to Melanie. "Melanie deserves it," he said. "She has a wonderful voice. I had such an incredible experience here. I got to be myself, sing what I want to sing, and I couldn't be happier." Chris Rene, the 28 year-old rapper from Santa Cruz, Calif., came in third place. VIDEO: ALANIS MORISSETTE WOWS THE CROWD DURING DUET WITH JOSH KRAJCIK ON THE X FACTOR Competition aside, last night was quite the night of performances by Justin Bieber, Stevie Wonder, Leona Lewis, Pitbull, Ne-Yo and 50 Cent! They rocked out to various songs with former contestants, including Justin having the most adorable moment with Drew Ryniewicz during "Santa Claus Is Coming to Town," and the night capped off with Melanie and Josh singing David Bowie's "Heroes." Although The X Factor hasn't lived up to the hype of American Idol, it's not a cookie-cutter replica of the hit show. This contest is open to solo singers as well as groups and is more flexible with its age limits. The minimum age is 12 and doesn't have an upper age limit. Plus, the judges serve as mentors. Simon represented female singers, L.A. Reid mentored male singers, Nicole Scherzinger was at the helm for the over-30 crowd and Paula Abdul coached the groups. Fox announced this talent show will indeed return for a second season in the fall.
MORE ON:
Nicole Scherzinger
Article continues below advertisement