NEWS
Melanie Fiona Dishes on Learning from Kanye West and Jay-Z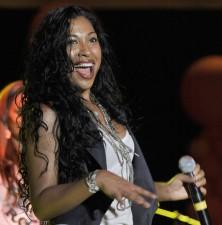 Melanie Fiona is gearing up for the Grammys this weekend, nominated for the first time in the category Best Female R&B vocal performance for her hit "It Kills Me." The Canadian R&B crooner has always had a passion for music and receives inspiration from artists like Lauryn Hill and Alicia Keys. Melanie, 26, dishes to OK! about who she is rooting for at the Grammys and what she has learned from Jay-Z and Kanye West.
Article continues below advertisement
Who is Melanie backing at the Grammys? The genre of music the group stands for is different then Melanie's R&B roots.
"I am excited about Kings of Leon actually," Melanie tells OK! "I think with their music its epic music. It's the same feeling you got when Coldplay came out. It's real and it comes with something it feels good and you want to hear that music around for a long time."
As far as what she has learned from Kanye West's advice, Melanie describes the rapper as a "nice" and "cool" person who welcomed her with open arms and treated her with kindness.
"Just watching someone re-invent themselves over and over again. Going through all the emotions of being a person and an artist and how that can conflict sometimes. He took the time to watch my show, and help me get better and give me points to become a better performer."
Melanie remembers Kanye's advice, "What ever you got to do to make the mother f***ers remember you do that."
She says she understood his approach.
Article continues below advertisement
"Like you choose where you want to apply it to," Melanie says. "Like if you want to wear the most outrageous outfits that will have people remember you, do it. If you want to have the best performance of your life do it. Be political and say something then do it and it's the truth but for me, it's just me that I want to be remembered for."
Melanie said the best thing she can learn from Jay-Z is watching him perform his craft.
"When we are around each other it is always just very chill and we might have drinks or play Jenga, or you know it's usually a very family orientated environment. It's all just having a good time after an event or something," Melanie explains. "Watching him is probably the best lesson for me just because to see the respect that he's commanded and the empire that he's built and just being business savvy, that's the best thing I could learn from Jay-Z and just being apart of that is an honor."