NEWS
Melissa Etheridge Opens Up About Her 'Happy' Life After Breast Cancer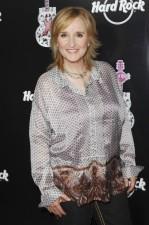 When Melissa Etheridge fought breast cancer in 2004, she had wife Tammy Lynn Michaels by her side.
The Grammy-winning musician attributes changing her diet and "making sure that every day I do what I love" to her success.
Exactly how did Hard Rock Café's Pinktober promoter alter her regimen?
"I looked at food differently," kind-hearted Melissa, 48, tells me. "I stepped back, and found that our bodies were like batteries. Our bodies run on alkaline. We need alkaline enough to survive. Of course, the Western diet is mostly acidic, and that is what causes our bodies to be acidic. Acid is where cancer grows. I realized we have to eat more alkaline, which, of course, is fruits and vegetables and whole grains. I shifted my diet."
Article continues below advertisement
She continues, "I'm not one to tell myself 'I can never have another cup of coffee, or I can never eat a hot fudge sundae.' No. That has to be the treat – the once a week or the once every two weeks – and the rest of the time is spent eating good, healthy salads, fresh fruits and vegetables – and trying not to eat things that come out of buildings. I try to eat things that come from the ground. I try to eat something that's grown, and comes right to me, because that's where the life force is. That's where the energy is. I looked at my food differently."
Her go-to snack? "Almonds. They're very good for you, they fill you up, they're alkaline and they're easy to eat."
Soon after Melissa was declared cancer-free, the couple, who tied the knot in a legally non-binding ceremony in 2003, welcomed twins in daughter Johnnie and son Miller, who turn 3 later this month. They are also parents to her daughter Bailey, 12, and son Beckett, 10, from Melissa's previous relationship with Julie Cypher.
Article continues below advertisement
"Oh, my family makes me incredibly happy," Melissa tells me. "When I am surrounded by my whole family, I'm completely at peace."
These days, the twins are in pre-school and her oldest child is in middle school. "I've got the whole range of school experiences now," she says. "I just love watching my kids grow."
How will they celebrate the twins's birthday?
"Oh, we have small parties," Melissa reveals. "I believe that small children need small parties. They don't need large, huge things, so we just have friends and family over, and each of them get their own birthday cakes. We always home-make everything."
Pick up OK!'s Pink Issue on newsstands now for more from Melissa Etheridge. The cover line is Khloe Kardasian/"My Dream Wedding."And, visit the Hard Rock Café in October to support their Pinktober projects aiding breast cancer research.