NEWS
Melissa Joan Hart Dances Off the Baby Weight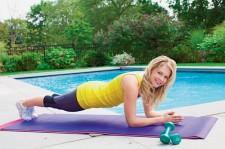 "As a child, I took ballet, tap and jazz," Melissa Joan Hart tells OK!. "I wanted to be a dancer. " But after landing the lead in the '90s Nickelodeon classic Clarissa Explains it All, she became a full-time actress. Now she's getting her kicks again as a competitor on Dancing with the Stars. And Melissa — who shed 42 pounds after her last pregnancy — has never looked better. She tells OK! how she stays in fighting form.
Article continues below advertisement
Are you excited about competing on DWTS?
I just try to be as prepared as possible and practice as much as I can.
Do any of the dances intimidate you?
My partner, Mark Ballas, has shown me a little fox-trot and a little jive. The jive looked scary! It's very fast and there are all these little flicks. I start to get the footwork down, and then he's like, "Now we're going to throw in a little kick." I'm like, "Wait, what?"
How do you feel about the skimpy outfits?
The cha-cha costume is kind of making me like, "Aagh!" It's high on the thigh, and my thighs are where I'm not really comfortable. So I'm hoping dancing is going to give me dancer legs.
Most of the show's competitors lose weight over the season. Is that one of your goals?
I hope that happens! I lost a lot this summer, but your diet is just terrible when you move. You ojust don't eat anything, and then it's 3 p.m. and you're like, "I'm starving! Pizza!" Bad stuff. So I've had to try to get it back on track now to get my energy up for dancing. Also, there's definitely been too much coffee.
Article continues below advertisement
Are you still working with the nutritionist and lifestyle expert Derek Johnson?
Yes, he's helping me with inflammation, sore joints, combating any possible knee injuries and soreness I might be feeling.
Food-wise, what's a typical day for you?
I eat six small meals. I start with protein shakes -- Jay Robb's protein shakes are unbelievable -- with a little bit of banana and some fiber to keep me full. Almonds are always a good snack, and I like chicken wraps or chicken tacos. I avoid starches and dairy, and instead have a lot of rice and almond milk.
Are you practicing your routines at home?
No, not at all. I don't want to drag my kids into it. I'm really good about working hard and playing hard. I don't want to mix the two.
For more of Melissa's fitness secrets, pick up the new issue of OK!, on sale everywhere now!