NEWS
Melissa Joan Hart Thinks Chaz Bono Being a Transgender 'DWTS' Contestant Isn't "Relevant"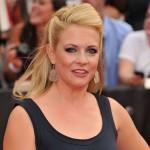 Article continues below advertisement
There has been a lot of controversy over whether DWTS should have a transgender contestant compete on the show, but Melissa says that really shouldn't be an issue.
"I don't even think that's relevant. You've had elderly people, you have teenagers, dancers, people who have never been in front of a camera, and you've had a woman with one leg. I mean, you have a lot of challenges there," Melissa explained of having Chaz on the show. "I don't think being transgendered is really a challenge. He is a notable person, and an icon's son, or daughter, or whatever, and I think that that's going to draw a lot of attention. He wrote a book, people follow him on Twitter, it's like, the people who are on that show are fascinating and they have a large draw."
"The casting directors there do a great job of drawing in people. And also, recreating careers," she added. "That show, while people may go in and you may not have heard about them much or recently, I mean look at Jennifer Grey – people's careers are revived on there. I don't know that this show would have happened if I wasn't on it. I think it showed ABC Family that there was still a draw for me. So I feel that it helped my career in a way."
Article continues below advertisement
OK! NEWS: CHAZ BONO'S DANCING WITH THE STARS PARTNER LACEY SCHWIMMER SPEAKS OUT AGAINST HATERS
So what does Melissa think of the new DWTS cast in general?
"People are really shocked by it, I guess," Melissa said. "They're getting a lot of reality stars which is interesting. I think there's a blurred line right now between celebrity and star. Celebrity used to be star used to be talent, used to be based on something. Now, celebrity is based on whoever's talked about and whoever's most ridiculous. People are always like, You're a child star who made it through, and how did you do it ? And you're like, 'You just don't hear about the good ones.' There are a lot of good ones."
"ABC Family has a lot of them — Candace Cameron, Molly Ringwald — these people that are still working, have families, have a life, but have managed to stay out of the public eye and maintain some sort of integrity. But they're boring, so you don't hear about them," she added. "Someone should do an article on the most boring people in Hollywood and then you'd find us."
"But I keep saying, I'm like one controversial issue away from a movie career, "Melissa said. "Like, if I just had a DUI or a drug bust or acted erratically on an airplane, the next thing you know, Paramount is knocking on my door and I have a five-picture deal."
Reporting by Gena Oppenheim