NEWS
Melissa Rycroft Talks DWTS Injuries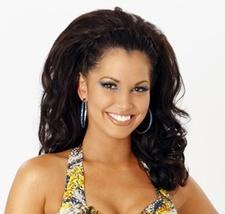 Though she's taken a bit of heat in recent days for not performing live in last week's Dancing With the Stars because of an injury, Melissa Rycroft is still determined to get back on the dance floor and stay on the show as long as the viewers will have her.
In a new interview with <a href="https://etonline.com" target="_blank">Entertainment Tonight</a> on Monday, the former Bachelor beauty talks in detail about the busted rib that almost had her leaving the show.
Article continues below advertisement
"They're little hairline fractures that will mend together on their own," says Melissa, who reveals that she now wears a numbing patch to ease the pain during rehearsal. "It makes it tolerable. Partner Tony Dovolani has made the routine so that we'll be able to do everything. It's more mentally exhausting than anything else... You just grit your teeth and move on."
Melissa, who was forced to be judged on the basis of a taped dress-rehearsal, says she's eternally grateful to everyone who gave her another chance to continue. "I was in tears... The fans saved us. What happened last Monday put everything into perspective... How bad you want it."