NEWS
Men of the Year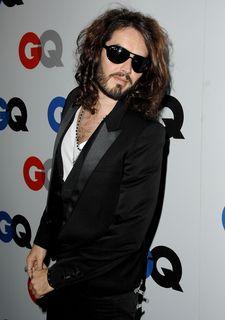 Other than that I have a few British friends who are fans, I don't really know too much about Russell Brand. I still haven't seen "Forgetting Sarah Marshall" and after attending the MTV VMA Awards three times, I didn't even watch them this year when he hosted the show. That said, when I met the comical British actor at GQ's 2008 Men of the Year Awards at the Chateau Marmont Wednesday night, I didn't have any expectations.
Article continues below advertisement
Our interaction began when I saw Russell being persuaded by a friend to leave the party still pretty early on. I only knew he was leaving because I heard him loudly exclaim/whine, "But I may never see her again!" I couldn't help myself and told him he sounded straight out of a romantic comedy. He corrected me and said, 'It's more of a Checkhov play." Within a few minutes of idle banter and introductions to a circle of my friends he awkwardly put his hand in my wine glass. When I gave him a reactive odd look he said, '"I was putting sex drugs in your drink." That provoked an even odder look leading him to say, "No, no, I don't do that, I would never do that, if I can't charm a woman to have sex with me without drugs, I don't deserve to have sex with her at all." How chivalrous. But entertaining.
Elsewhere at the party…My friend was crushing on Matthew Fox, googled him on her new Blackberry BOLD and the picture she found was of him and the woman he was with – who turned out to be his wife. Next. Jimmy Kimmel was walking hand-in-hand with Sarah Silverman, it's nice to see them together again. Leo, one of the 'Men of the Year,' seemed like he and not Mark Wahlberg was the inspiration for "Entourage," sitting at a patio table chatting with Kate Bosworth while surrounded by his longtime pals Lukas Haas and Kevin Connolly. Jerry Ferrara was a few tables away with his made-on-HBO girlfriend Jamie Lynn Sigler and GQ's 'obsession of the year' Megan Fox turned heads when she waltzed through with fiancé Brian Austin Green.