NEWS
Meryl, Amy Turn Frosty During 'Doubt' Premiere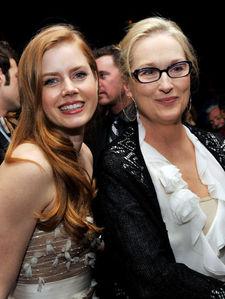 Meryl Streep coughs her way through arrivals during her Doubt premiere held Sunday at Paris Theatre in NYC. Dabbing a white tissue to her nose, she simply waves to those braving the 31-degree temperatures in hopes of getting a word with her.
Oscar-winning Doubt director John Patrick Shanley describes Meryl as "scrappy" and says she wants to keep that movie-star allure alive.
"She doesn't quickly abandon being Meryl Streep," he tells me. "She uses that card for the first week or so. She likes to keep a certain distance there that she's not going to immediately let fall until she establishes trust. She never let it fall with the kids who played the kids in the movie. She wanted them to be terrified of her, so she always stayed away from them in between takes. And they were terrified of her. She loves kids – she's got four kids of her own – but she was doing something – she was acting."
Article continues below advertisement
Here comes Amy Adams, who is donning a strapless frock in the frigid weather. She, too, breaks down and dashes off before speaking to reporters about the Catholic drama set in the 1960s. Although the weather makes her seem frosty, she's not actually like that in real life.
"At the wrap party, she picked up the microphone and sang one song after another and got people to do duets," the director continues. "You Don't Send Me Flowers was a particularly memorable number that she did as a duet with a friend of ours. She's like the Unsinkable Molly Brown. She's got a lot of that entertainer, people-pleaser, sweetheart luminosity going on. She's pretty great."
John sees her as a singer, but not in the Britney Spears vein. "I think she'll do more stuff like Enchanted. Within the context of the story, she would sing."
According to costar Phillip Seymour Hoffman, Meryl has the right idea by coming armed with tissues.
"I remember seeing it opening night in a play," he says. "At the end you're so torn up it makes you cry. I was looking for a great drama, and Viola Davis hit it out of the park, so again it's truly one of the great movies around."
Article continues below advertisement
Marlo Thomas and Phil Donahue, pixie-cut Edie Falco and Stanley Tucci dash through, but Aidan Quinn is happy to share his New Year's resolution. "Grow up, live in the moment and have more fun," he says.
And, how does costar Viola deal with doubt?
"I hope that I'm open to it," she tells me. "I hope that I explore where the doubt is coming from and that I'm open to new ideas and that I take risks. But I approach doubt like anyone – I'm terrified. And I go back to what I know. I just suck it in."
Doubt is in theaters December 12.