NEWS
Meryl Streep Promotes 'The Iron Lady' on 'Jimmy Kimmel Live'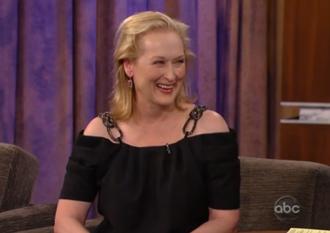 Article continues below advertisement
Meryl plays Margaret Thatcher in The Iron Lady and prortrays her from her 40s to her 80s. The makeup helped her get into character, but was hard to get used to.
"It's weird," Meryl admitted. "You sort of look in the mirror and I felt like I saw my dad more than Margaret Thatcher. I mean really because I sort of look more like him than my mother."
OK! NEWS: THE PHILMGUY REVIEWS — THE IRON LADY STARRING MERYL STREEP
While Jimmy had her on his show, he also got the chance to ask Meryl some questions he didn't think other peeople would ask her.
The last time you got drunk?
"Last night!" Meryl said with a laugh and crowd cheer.
Watch a clip of Jimmy questioning Meryl, below!
Meryl Streep on Jimmy Kimmel Live from ABC on Hulu