NEWS
Meryl Streep's 2012 Golden Globes Acceptance Speech: "I Can't Believe I Said S*** on TV"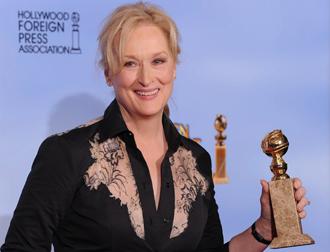 Ricky Gervais may have been on his best behavior last night at the 2012 Golden Globe Awards, but Meryl Streep was not! The Iron Lady gave a rather hilarious off-the-cuff speech when she accepted the award for Best Performance by an Actress in a Motion Picture — Drama.
OK! GALLERY: GOLDEN GLOBE AWARDS 2012 PHOTOS — RED CARPET COUPLES!
Viola Davis won Best Actress at the Critics' Choice Award, but Meryl took home the Golden Globe last night.
Article continues below advertisement
"Oh, my God. Oh, my God," Meryl said when she took the stage in complete shock. "Well, when Ricky Gervais' deal fell through and they came to me to play Margaret Thatcher — I can't joke. I mean, this is such a thrill but, really, really embarrassing in a year that saw so many extraordinary performances by women in leading roles, by my friends, by people I don't know, by people that I am so inspired by. Oh, shhhhhhhhh‑**. My glasses! Oh, my God. I'm going to have to remember my speech. OK. I'm going to have to remember, but Glenn Close, Viola — oh, my God, I'm going to leave people off..."
This may have been worded differently in the speech she wrote, but Meryl said, "I've got to thank everybody in England that let me come and trample all over their, you know, history."
And the 62-year-old actress ended her speech by saying, "I'm so proud of the film, and I'm so, so, so grateful. And I love you, Viola. You are my girl."
OK! GALLERY: TOP FEMALE FASHION AT THE 2012 GOLDEN GLOBE AWARDS — MICHELLE WILLIAMS, EMMA STONE & MORE
After the show, Meryl felt bad about swearing.
"I can't believe I said s*** on TV, I can't believe that," Meryl told reporters (via The Daily Mail). "I never do anything like that.... I have such a good speech, here it is, and I can't see it. I mean, I can't see it at all... because I left my glasses at the table."
Poor Meryl. But she also could have taken home the award for Most Entertaining Speech of the Night!