NEWS
Meryl Streep's Oscar Speech: "I Really Understand I'll Never Be Up Here Again"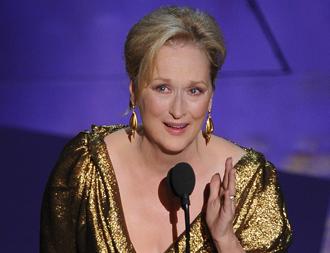 Meryl Streep hasn't won an Oscar since 1982 for her role in Sophie's Choice and after countless nominations she has finally taken home her third award. Meryl won the Oscar for Best Actress in a Leading Role at the 2012 Academy Awards last night for her role in The Iron Lady. During her acceptance speech, Meryl acknowledged that she understands people may be sick of her and doesn't expect to win again!
Article continues below advertisement
OK! GALLERY: OSCAR NOMINATED STARS ARRIVE AT THE 2012 ACADEMY AWARDS RED CARPET
Meryl was up against Viola Davis for The Help, Glenn Close for Albert Nobbs, Rooney Mara for The Girl With the Dragon Tattoo and Michelle Williams for My Week With Marilyn. Needless to say, she was very surprised she won!
"Oh my god. Oh c'mon. Alright. Thank you so much. Thank you, thank you," Meryl said on stage as she began her acceptance speech. "When they called my name I'd had this feeling I could hear half of America going 'oh no…oh c'mon…why…her…again?' But whatever."
"First I'm going to thank Don because when you thank your husband at the end of the speech they play him out with the music and I want him to know that everything I value most in our lives you've given me," she continued. "And now secondly, my other partner: 37 years ago, my first play in New York City I met the great hairstylist and makeup artist Roy Helland and we worked together pretty continuously since the day we clapped eyes on each other. His first film with me was Sophie's Choice and all the way up to tonight when he won for his beautiful work in The Iron Lady, 30 years later, every single movie in between."
Article continues below advertisement
Meryl concluded by saying, "And I just want to thank Roy but also I want to thank — because I really understand I'll never be up here again — I really want to thank all my colleagues, all my friends. I look out here and I see my life before my eyes, my old friends, my new friends and really this is such a great honor but the thing that counts the most with me is the friendships and the love and the sheer joy we have shared making movies together. My friends, thank you, all of you, departed and here for this inexplicably wonderful career. Thank you so much. Thank you."
OK! NEWS: ACADEMY AWARDS 2012 WINNERS — OCTAVIA SPENCER, JEAN DUJARDIN, MERYL STREEP, CHRISTOPHER PLUMMER & THE ARTIST WALK AWAY WITH OSCARS!
After accepting her award, Meryl spoke to reporters backstage and further joked about her long history of always being nominated but never winning. Still, the 62-year-old actress said she wasn't worried about never winning again.
"No. I have I mean, I have everything I've ever dreamed of in my life. And no. I mean, I think there's room for other people," she said. "Frankly, I understand Streep fatigue. And it shocks me, it shocked me that it didn't override this tonight. So, I was really, really happy but I don't take anything for granted, that's for sure."
Congratulations, Meryl on your third Oscar win. We hope to see you on that stage again!