NEWS
Michael Bolton on Lady Gaga: "Wow, This Girl Can Sing"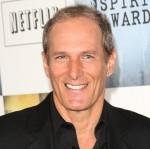 Michael Bolton is enjoying a musical comeback thanks to his new collaboration with Lady Gaga, but the 80s balladeer admits that before recording their duet "Murder My Heart" he'd never even heard of the eccentric artiste.
"When I got the phone call that Gaga wanted to write with me, it was three months before her album dropped. I said, 'Why do you want me to work with her?'" he tells PopEater.
Article continues below advertisement
Luckily for the "How Am I Supposed to Live Without You" singer, his team told him she was about to become a huge pop sensation, she was a fan of his and she wanted to write with him.
The clincher? Michael got down to "Just Dance". "I've been in music for a long, long, long time; I would never be an A&R person but I'm sure I could've been," says Michael. "With 'Just Dance,' I heard the first verse and chorus and it sounded like a smash to me, a giant record."
OK! VIDEO: LADY GAGA AMERICAN IDOL PERFORMANCE CUT SHORT
So how did the blue-eyed soul singer and the whacky performance artist get on? "Gaga and I hit it off instantly and she was a pleasure to write with. She was singing her ass off in front of me," he says.
"She was singing different variations and trying different parts, so I got to observe, 'Wow, this girl can sing.'"
Article continues below advertisement
Michael also admits he was surprised at her vocal dexterity. "Sometimes I think that if I'm going to work with a contemporary writer or artist, they're probably going to need our tools, Auto-Tune, Pro Tools, Logic — everything we can do in the studio," he says. Not Lady Gaga!
"It's really refreshing to have somebody who can really sing standing in front of you and hitting notes and variations and, as a songwriter, shaping a song."