NEWS
Michael Buble's Ex Reveals Bad Habits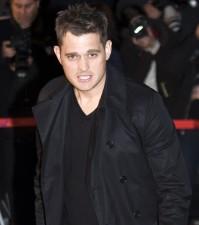 After news of his recent engagement to actress and model Luisana Lopilato, the throw back singer Michael Buble's ex-girlfriend Tiffany Broomley speaks out on the star's darker side including some of his many bad habis.
"Michael smoked up to three joints a day when I was with him. He always had a couple in his wash bag ready to go," Tiffany told Radar Online of Michael's marijuana habits.
Describing the Canadian as a, "self obsessed jerk," Tiffany continues that Michael would get the, "marijuana munchies."
Article continues below advertisement
While having a marijuana habit isn't too great for a singer's voice, Michael claimed that he used the drug for creativity and to relax.
"He insisted it was his way of winding down at the end of a day. But sometimes he started the day with one," Tiffany revealed to Radar Online.
And although the entertainer maintains a very clean image, Michael apparently was only interested in, "sex, cannabis, and cake."
Michael, who was previously linked to actress Emily Blunt, became engaged to his now Argentinian fiancee Luisana in Nov. 2009.