NEWS
Michael Cera, Danielle Staub Dish on 'Jersey Shore'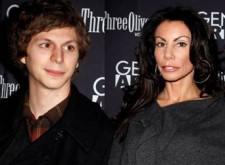 Ed Westwick adds star power to the Youth In Revolt special screening presented by Three Olives Vodka held Tuesday at NYC's Regal Cinemas Union Square. The Gossip Girl star, dapper in a leather coat, joins girlfriend Jessica Szohr and Fall Out Boy's Pete Wentz inside.
But the coming-of-age movie's star, Michael Cera, isn't fazed by their presence. After all, the 21-year-old actor recently filmed promos for MTV's controversial reality hit Jersey Shore, in which he gets a makeover by DJ Pauly Delvecchio and enjoys the company of Nicole "Snooki" Polizzi, Jenni "J-WOWW" Farley and Mike "The Situation" Sorrentino. (Bonus: The reality darlings are in the house tonight!)
Article continues below advertisement
"I had a great time with them," he tells me.
Would he rock his far-out Jersey Shore 'do again?
"Yeah," Michael says. "I thought it was fun having my hair did. I had a good time."
Contrary to reports, J-WOWW did not give him grooming tips. "Uh, I don't think she gave me advice," he counters. "No, she didn't."
Speaking of Garden State controversies, Real Housewives of New Jersey's own scandal magnet Danielle Staub steps out for the evening. But she isn't phased by the reality newbies.
"I haven't watched, but my 16-year-old daughter Christine has, and she has informed me that it's a bunch of hot guidos hooking up with a bunch of hot guidettes," the single mom, whose memoir The Naked Truth is due in May, tells me. "They're making out in some clubs that look like they're really tiny, and she says 'I'm just happy to be watching it and not living that.' And I go 'good, because you're never going out in the Jersey Shore unless it's Red Bank.' There are beautiful parts of the Jersey Shore. I love Red Bank. She's been to Red Bank. She's like 'is that what Jenkinson's is really like?' I'm like 'I don't know, sweetheart, I really don't.'"
Article continues below advertisement
Hm, does she find the term "guido" offensive – even though it's embraced by the JS cast?
"I think it's typical for Italian men that age to be called guidos," Danielle says. "I think they aspire to that. I think they like it. Only one castmate is from New Jersey, so the rest of them are coming here to be called guidos. But they're working it out their way. Let them have fun."
Fist pump! Jersey Shore stars The Situation, Snooki, Vinny Guadagnino and DJ Pauly D show their new bud Michael's flick some love by stopping by the afterparty held at La Pomme. Sweet.
Youth In Revolt is in theaters Friday.