NEWS
Michael Douglas Calls Fatherhood 'Magical'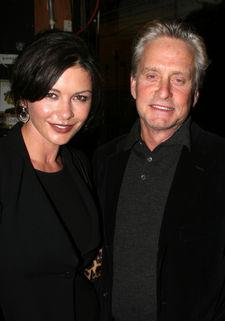 Michael Douglas loves being a dad later in life.
"I have the attention, the time, the priority," the two-time Oscar winner, 64, who is married to Catherine Zeta Jones, 39, tells me. "This is not a business that you can balance your family life with your professional life. Most people have a nine-to-five job and they work five days a week. Sometimes they have the summer off. This is a job where you're gone for long periods of time. When your priority becomes family first, you really get to enjoy and savor these incredible years of super-fast growing spurts. It's a bond that's magical."
Article continues below advertisement
Dylan, 8, takes drama class while Carys, 6, does ballet.
Like son Cameron, 30, from his previous marriage, would he encourage the latest batch to go into showbiz?
"I don't think you have a lot of control over what your children decide to do," the Ghosts of Girlfriends Past star says. "Either encouraging or discouraging – that's certainly the life they're familiar with and the life they know. It wouldn't surprise me if, like a lot of children, they go into the careers that their parents might be in. I think they'll see the pitfalls and the great advantages. It is a gypsy life. I'll support my children in whatever they decide to do."
MORE ON:
Red Carpet Confidential
The family certainly enjoys a lavish life faraway from Hollywood.
"We live in Bermuda, where my mother came from – my mother's a Bermudian and we have a big family down there. The kids are in school there."
He adds, "It's a beautiful island. Gorgeous beaches, lovely people. It creates an environment for us away from the entertainment business, and gives our kids independence and freedom where showbiz isn't on everybody's lips. It's a lovely, lovely place. It's about an hour-and-forty-five minutes – under two hours -- from New York. It's also a British colony. It's a lot of similarities for Catherine. They drive on the left side of the road, and the Queen and all that."
They also keep an apartment in NYC and a farm in Quebec.
"We go skiing in the winter time," he says. "In the summertime -- lake stuff."