NEWS
Michael Douglas Is Optimistic for the Future: "I'm So Happy"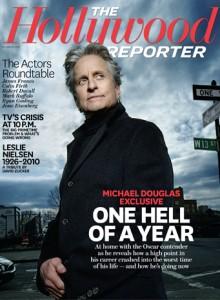 In the new issue of The Hollywood Reporter, Michael Douglas is speaking out on his battle with Stage 4 throat cancer and how he's optimistic for what the future holds.
OK! GALLERY: MICHAEL DOUGLAS & FAMILY KEEP TO ROUTINES
According to THR, Michalel was looking well when he sat with them for an interview.
He pointed out himself that for going through chemotherapy and radiation "five days a week" he's in good shape.
Article continues below advertisement
"I'm happy to be feeling the way I do today," he said during the interview, "as opposed to how I felt a week ago."
When Michael found out he had cancer, he was most afraid about telling his father, Kirk Douglas, as opposed to his wife Catherine Zeta-Jones or his children.
"I was worried about my father — and he couldn't have been sweeter," Michael said. "He really made an effort. He was back here almost 10 days. He came over every day. He was great. He and my stepmother, they're a tough, strong bunch."
OK! GALLERY: MICHAEL DOUGLAS BOOSTS HIS SPIRITS WITH BRIGHT COLORS & DAUGHTER CARYS
As for how Michael told the media the news, he has his publicist Allen Burry to thank for how it was handled.
"All the interviews were planned for much later, before anyone knew what was going on," Burry explained. "So we had to move things up. Letterman just happened to have a cancellation; it was difficult enough to get through that. Normally, they do a pre-interview with one of the producers — he couldn't because it was a really difficult day. So they just winged it."
Since then, Michael's rounds of treatment have made it difficult for him to speak, but he remains in good spirits.
"After all the adversity I've had this year," he said, "with my health and my son's incarceration, my ex-wife and the lawsuit — to be able to sit here and talk to you, I'm so happy."