NEWS
Michael Douglas Scores Biggest Career Box Office Win With 'Wall Street: Money Never Sleeps'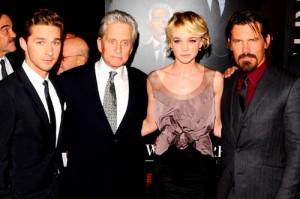 Gordon Gekko's greediness trumps the box office once again! Oliver Stone's sequel Wall Street: Money Never Sleeps raked in $19 million at the box office this weekend, marking Michael Douglas' biggest career box office win for his triumphant and critically-acclaimed return as the ruthless money-making mogul.
Michael's return as Gekko, paired with young Hollywood stars Shia LaBeouf and Carey Mulligan, broaden the audience for the sequel, Moviefone reports, via PopEater.
Article continues below advertisement
The $19 million box office debut is the largest in Michael's career, however, taking inflation into consideration, his best would be Basic Instinct.
Even though Michael has the number one film right now in the country, he is keeping focus on what really matters — his beautiful family and kicking throat cancer.
In other box office news, Legend of the Guardians: The Owls of Ga'Hoole opened in second place with an estimated $16.3 million.
Ben Affleck's The Town ranked in at No. 3 with $16 million, followed by Easy A with 10. 7 million.
Rounding out the top five: You Again — starring Betty White, Kristen Bell and Jamie Lee Curtis — didn't even break $10 million, opening with $8.2 million.