NEWS
Michael Fassbender and Charlize Theron Talk Sex Scenes in 'W' Magazine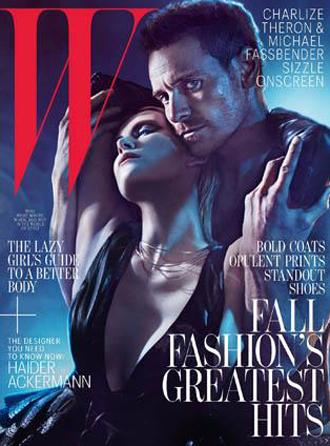 Anyone who's seen 2011's steamy sex-addiction flick, Shame, can clearly picture its star, Michael Fassbender, as a libidinous womanizer.
OK! NEWS: CHARLIZE THERON, SALMA HAYAK AND MORE STEP OUT FOR PROMETHEUS PREMIER
He just made bed-hopping look so... natural.
In real life, Michael tells W magazine that playing an overly virile character is kind of a pain.
"Sex scenes sound like more fun than they are," he told the August issue of W magazine. "Death scenes are easier, really. Maybe because I've died so many times. I've had a lot of practice. In my movies, I'm often naked or dying."
Article continues below advertisement
Charlize Theron, with whom he shares the cover and co-star billing in the movie Prometheus, says just the opposite, however.
"It depends on who you're doing the sex scene with," she said. "I don't have issues getting naked (pauses). That sounds very slutty. What I mean is, I'm not hung up on my body, and I've been lucky to work with people I've been really comfortable with."
So was the sex hot between her Fassy? Oh, please Charlize — tell us it was!
MORE ON:
Michael Fassbender
"For some reason, Greg Louganis came up. I knew I wanted to have good posture and a sort of economy of movement. It was the way Louganis walked to the edge of the diving board — I always thought it was mesmerizing."