NEWS
Michael Jackson to be Honored with 3-D Tribute at Grammy Awards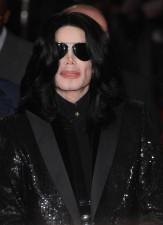 In the wake of Michael Jackson's June 2009 passing, the 52nd Annual Grammy Awards will pay tribute to the legendary pop star with a star studded 3-D tribute based around his hit "Earth Song," according to new reports.
"There are these incredible images of the beauties of nature, and then they are seen through the eyes of a little girl, and that girl falls asleep and when she wakes up, she is witness to the destruction of nature," Ken Ehrlich, who acts as the Grammy telecast's co-executive producer, reveals to the Associate Press of the presentation.
Article continues below advertisement
Giving the already innovative 3-D clip more star power, Usher, Celine Dion, Carrie Underwood, Jennifer Hudson and Smokey Robinson will all be performing alongside the accolade.
Attempting to give Michael what he would have wanted, Ehlrich, who worked with the legend for 30 years, tells AP, "Whenever we would do a show with (Jackson), the first thing he would say to me was, 'How can we do something that we (have) never done before?' And now we're doing something that hasn't been done before," with the introduction of 3-D technology to the award show realm.
And this particular clip meant a lot to the singer, who planned on using the, "Earth Song," in his upcoming comeback tour prior to his passing.
"It was pretty emotional for him," Ehlrich spoke of watching the video with Jackson the night before he died, "Afterward he said to me that that song and that piece and that portion of the concert was as important to him than anything else in the show."
And while this year's edition of the show is meant to wow viewers with a massive homage to the icon, Michael Jackson will also be given the Lifetime Achievement Award to add to the honor.
"This is the one award from us that Michael never received," Recording Academy President and CEO Neil Portnow gushed to AP.
Ehlrich can guarantee Grammy-watchers one thing for sure, "The promise is this is going to be pretty spectacular."
Grammy-Viewers can pick up free 3-D glasses from Target stores nationwide from Jan. 24 to Jan. 31 in order to see Michael's clip in 3-D.
The 52nd annual Grammy Awards will air live from the Staples Center in Los Angeles on CBS at 8 PM EST on Jan. 31.