NEWS
Michael Jackson Suffering From Skin Infection?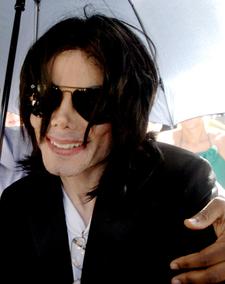 Michael Jackson has been fond of wearing face masks when he's out in public for the the past decade or so, but now those masks are reportedly covering a spreading skin infection.
Britain's The Sun newspaper reports that the singer is being treated with antibiotics to treat a painful skin inflammation, said to be a severe staph infection.
The paper also indicates that the infection could turn into a flesh-eating disorder, which would require him to get reconstructive surgery wherever he loses skin.
Article continues below advertisement
"Michael Jackson has a severe staph infection that he contracted during work to reconstruct his nose. The disease is an MRSA-style infection because it is resistant to conventional antibiotics, so he has been visiting a clinic to get antibiotics via an IV drip. The infection has spread throughout his face and body and is being aggressively treated by doctors," the paper quotes a sources as saying.
"There's a chance it could turn into a flesh-eating disorder where it begins to kill off his skin so he's being very carefully monitored."