NEWS
Michael Jackson Wowed 'Mickey Mouse Club'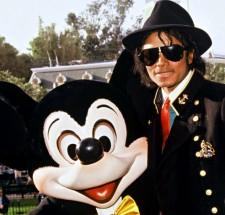 Michael Jackson was a kid at heart, and stopped by the Mickey Mouse Club when it filmed at Florida's Disney-MGM Studios in 1990.
Former Mouseketeers Damon Pampolina, Albert Fields and Chasen Hampton fondly remember the King of Pop's visit. I caught up with the guys, all 34, one day after Michael's shocking death at age 50.
Just before Justin Timberlake, Britney Spears and Christina Aguilera joined, Damon, Albert and Chasen began making tunes as members of the show's spinoff pop group The Party, which also included Deedee Magno and Tiffini Hale.
Article continues below advertisement
Michael's style heavily influenced them, given that Damon's renditions of Michael's Another Part of Me and The Way You Make Me Feel scored him the coveted role on the Disney Channel show, and Albert hailed from Michael's hometown of Gary, Indiana, and was a featured performer on Oprah Winfrey's AM Chicago. Chasen learned how to dance thanks to Michael's trademark moves.
"Michael came to the set of the Mickey Mouse Club when he was over at Disney," Damon remembers. "They brought him over to say 'hello' to us, and we all got an autographed, personalized picture."
It was a dream come true. The Houston, Texas, native vowed to his classmates he'd meet the Gloved One after he performed Billie Jean for his second grade talent show, and found his wish granted at age 12.
According to Damon, Michael's security was tight. "It was very controlled. They built up a barrier – a wall – around our soundstage to where there was no way no one was going to enter."
What was Michael really like?
Article continues below advertisement
"It was one of those weird things where you didn't really think he existed because he was such an unbelievable performer," Damon says. "You didn't think he was human, and to see him was just like 'oh my God, he exists.' laughs It's surreal. As a young kid, you think 'maybe he's not real.' You think of him as a superhero. His skin was flawless. He looked exactly how you would see him on posters. The hat, the hair, the whole nine. It was a trip."
Although the cast never got a photo with him, they did get autographs. Damon says the photos weren't signed in front of them. "They took him somewhere, did it, and gave everybody one after the fact."
He shares, "I have a framed autograph here in my possession. It was the same for everybody. It says, 'To the Mouseketeers, my favorite club in the whole world, you all really inspire me. I love your wonderful show. All my love. I love you all. Michael Jackson.'"
Article continues below advertisement
Of their meeting, Damon says, "We got to shake his hand, that was it. He said 'great to meet all you guys.' I was pretty starstruck at the time. I certainly didn't say anything."
For Albert, who grew up in Michael's hometown of Gary, Indiana, the interaction was more personal. He got 1:1 time with him backstage for about ten minutes.
"That was the first thing we touched on – 'hey, I'm from Gary, too,'" Albert says. "It was amazing because he influenced me and everybody else, especially for me being where I'm from and my family witnessing him as a kid and going to school with his brothers and sisters. It was incredible, and he was cool, like 'I enjoyed the show, I watch the show, and it's cool to be here.' Because he wanted to come and see us filming it. He said he loved the show and he liked what we did on there. The singing, dancing, acting. He said 'you guys are triple threats.' It was crazy. That was the conversation – 'I'm your homeboy' type thing."
Albert continues, "He did have something that was absolutely mesmerizing, even standing there – the sound of his voice. Everything about him was insane. It was a big thing to meet him and look him in the face. I'm not going to lie to you – it was a little weird. It was easy to get lost in his eyes and dream of puppies and rainbows." He chuckles.
Disney and Michael Jackson were quite a pair. The King of Pop's Captain Eo attraction was part of EPCOT, Disneyland and Tokyo Disneyland.
Article continues below advertisement
Albert says, "We all know that he was a fan of Disney and Peter Pan, so I think Michael Eisner or Jeffrey Katzenberg were with him at the time. They're the ones who brought him over. And Disney-MGM Studios was new, so the Mickey Mouse Club was an attraction he wanted to see, seeing that the show was being filmed there."
What more does he remember about his Michael encounter? Well, Albert says the King of Pop was taller than he expected and looked plastic.
"He shook my hand very soft," Albert shares. "I didn't like that. You know how people give you the soft hand? He did that. But other than that, I was in awe. But he was cool because he was down-to-earth. He was having a conversation that was genuinely happy. It was genuine when he was saying 'I like what you do.' It was happy. And it wasn't a creepy thing. He just had an aura like a vacuum that sucks you in, and you go 'ahh! Wait a minute.'"
Article continues below advertisement
Chasen admits the day was one he will never forget.
"He was larger than life. He believed in the Disney Magic. He loved our show, and said he used to watch it every day he could. That alone made me bust at the seams with excitement. He was telling us that he was our fan. What power onstage, and such a beautiful man offstage. He was never scared to say what most of us won't."
Even though it was easy to see why Michael was drawn to the child stars since he was a child star himself, he was accused of child molestation three years after his visit.
"Nothing had surfaced about the allegations at the time, so we didn't have any apprehension or 'oh, this is weird,'" Damon says.
Albert says, "I never thought that he was a molester or pedophile or any of that craziness. He was a weird, eccentric cat because he never had a childhood. I thought people were trying to take advantage of him."
He settled out of court in 1994, and was acquitted of all wrongdoing in a separate case in 2005.
Article continues below advertisement
What no one can take away from Michael is the "It" factor. "He was literally kissed by God to have that talent, " Albert says.
Damon caught Michael performing on the 1984 Victory Tour and the 1987-1989 Bad Tour.
"There is absolutely no other performer on earth who can touch his magnetism, energy and danceability," he says. "But his showmanship live – if you haven't seen it, I don't know if it will ever exist again. And I'm not taking anything away from other artists – I'm a huge Prince fan, I'm a huge Beyonce fan, but as far as showmanship and the magnetism that he holds on that stage, it'll never be touched. I don't see it in our human lifetime – I don't think it will ever be touched again. There'll never be another Elvis. There will never be another Michael."
Chasen now serves as music director for Rock Nation, an all-ages music school, and teaches many aspiring young musicians. "His autographed picture he gave me that day hangs above me there," he says. "He is an inspiration to every kid walking in that school. I'm sure that would make him happy."
Chasen adds, "Michael, thanks for my career in music, and for raising the bar in music and performance. Thank you for inspiring us not only in music, but in kindness and giving."
Albert says, "He had that gift that most people don't get. He was a very special person in that way. And he helped the world. That's why everyone's so impacted by his death. That's very special."
Rest in peace, Michael. You will forever be loved.