NEWS
Michael Jackson's Deathbed Up For Auction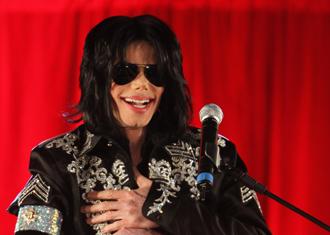 Just two days after Dr. Conrad Murray was convicted of involuntary manslaughter in the death of Michael Jackson, it was announced that, come December, you could own the very bed where MJ took his last breath — talk about creepy!
Hundreds of items from the King of Pop's Holmbly Hills residence will be up for auction next month, including Michael's queen-size deathbed.
"We want to preserve the history of these items," Darren Julien, celebrity auctioneer and president of Julien's Auctions, told The Associated Press (vai CBS News). Julien's Auctions has been put in charge of selling Michael's possessions at the Dec. 17 auction.
Article continues below advertisement
Probably the most eerie of the items for sale (besides the deathbed, of course) is a chalkboard that still contains a scrawled message from one of Michael's three children, Paris, Blanket and Prince Michael: "I (heart) Daddy. SMILE, it's for free." Offered as-is, the chalkboard is expected to sell for over $400.
Another item for sale reportedly features a message from the legendary icon himself. A rep for Julien's says that a mirror from Jackson's "inner sanctum," a private bedroom reserved for Michael alone, will be up for auction and features an inspirational reminder to the King of Pop while he prepared for his comeback "This Is It" tour. The mirror reads: "TRAIN, perfection, March April. FULL OUT May."
Also up for auction are the various antique furnishings, paintings and sculptures that filled the sprawling house where Michael and his children lived from December 2008 until his death on July 25, 2009.
The 54,885-square-foot home will be sold separately for an undisclosed price.
The news of the Holmbly Hills auction comes just a day after a pair of Michael's silk pajamas and a bed he once slept in sold at an auction in Northern Ireland for a total of 8,900 euros (that's over U.S. $12,000).