NEWS
Michael Jackson's Kids Tell Oprah Winfrey "What a Good Father He Was"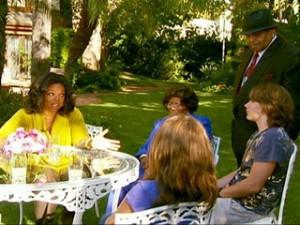 Oprah Winfrey interviews Michael Jackson's family for the first time since his death for an episode airing today. Paris Jackson has one thing she'd like his fans to understand: "what a good father he was."
OK! GALLERY: MICHAEL JACKSON'S KIDS STICK TO KICKING IT AT KARATE
Michael's parents Katherine Jackson and Joe Jackson are trying to raise his three children Prince, Paris and Blanket Jackson while coping with the lose of their son.
Article continues below advertisement
"You know what broke my heart more than anything else in this world? When people at the hospital told us, 'You can leave now,' and Paris and Prince said, 'Where are we going?'" Katherine explained on The Oprah Winfrey Show (via ABC News).
Now the children are trying to adjust to their new life
"What they talk about is, 'Daddy would do this and daddy would do that.' Or, 'That's how Daddy did it,'" Katherine said. "Paris is very emotional. She talks about him all the time. She's the strong one. All the pictures on her wall in her bedroom are of Michael."
Katherine also admitted to Oprah that she tried to stop Michael from using drugs like Propofol the same way she tried to stop him from getting plastic surgery.
"I thought it was too small," Katherine said of his nose adding, "like a toothpick at one time." "I had told him, 'That's enough, why do you keep going?'"
Now, in Michael's memory, Katherine has dedicated the new book, Never Can Say Goodbye, to him.
Article continues below advertisement
OK! NEWS: JACKSON FAMILY TO WELCOME OPRAH WINFREY INTO THEIR HOME
And Micheal's children are holding on to the memories of their father.
"I kind of felt like no one understood what a good father he was. He was the best cook ever," Paris, 12, told Oprah. "He was just a normal dad."
"He made the best French toast in the world," she explained. "He just made the best breakfasts in the world."
While both Paris and Prince, 13, said Michael gave them lots of treats, he was also "strict."
While Blanket didn't speak much during the interview he did say that Prince "could get away with anything," but he couldn't when it came to disciplining.
"He tried to raise us without us knowing who he was, but that didn't really go so well," Paris explained with a smile.
But they have lots of happy memories with their dad.
"We were in Bahrain, and we used to wake up early and walk on the beach," Prince remembered.
Article continues below advertisement
"Sometimes he would take me to a museum, because we both loved art," Paris added. "We'd play tag outside. He got us Kenya their dog four years ago."
OK! NEWS: OPRAH WINFREY & GAYLE KING LAUGH OFF LESBIAN RUMORS
Prince and Paris also shared their hopes for the future.
"I'd like to be an actress when I'm older," Paris said. "I sometimes do improv. I used to do it with my dad."
And Prince said he wants to "produce movies and direct."