NEWS
Michael Jackson's Neverland Memorial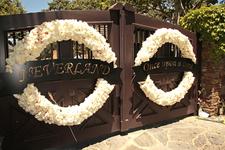 Michael Jackson loved Neverland Ranch, the sprawling estate/amusement park that he called home, so it's only fitting that the King of Pop should return there one last time.
The Santa Barbara Sheriff's Department confirms to E! News that plans are being discussed to hold a memorial service at Neverland for MJ.
"Our guys are meeting as we speak with the California Highway Patrol to discuss the security issues," says Lt. Butch Arnoldi, a department spokesman.
Article continues below advertisement
"Our role will primarily be traffic, but also crowd control," adds Arnoldi. "We will also be making sure there is no trespassing on neighboring ranches and stuff like that. We would be stationed on the perimeter of the house. The actual roadway will be the responsibility of the CHP."
It's normal for the sheriff's department to get involved when a huge crowd is expected, and Michael's fans are sure to show up in positively huge numbers. A date and time for the services hasn't been set yet.
Other reports indicate there could be a viewing open to the public as well, so fans can say farewell to the fallen icon.