NEWS
Michael Lohan Charged for Harassing Kate Major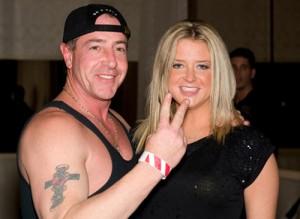 Looks like Michael Lohan might be spending some time behind bars like daughter Lindsay Lohan. The patriarch of the Lohan family has been charged with second degree harassment for allegedly attacking fiancée Kate Major, TMZ reports.
According to TMZ, Michael was charged by the Southampton Police Department and his official hearing is scheduled for Aug. 18.
Article continues below advertisement
Kate issued a report earlier this week with the Southampton Town Police claiming, on Monday, before Michael flew to L.A. for Lindsay's hearing, they began to have a heated argument and Michael allegedly pushed her over a chair, causing injury to her shoulder.
Then, after she was already down, Kate claims Michael kicked her in the face, sending her to the hospital. She also has pictures of her injuries.
A judge can issue a bench warrant for Michael's arrest if he fails to show up for his court date.
Let's hope he has a better track record than LiLo when it comes to attending hearings.
Michael was present at all of Lindsay's court hearings with his lawyer, Lisa Bloom, and claims to visit his daughter every day.
He also believes Lindsay's allowance of prescription drugs in the slammer is only enabling her.
Looks like as one Lohan will be exiting jail, another one will be entering?
FOR EXCLUSIVE DETAILS ON LINDSAY'S PRISON DETOX, BUY THE NEW ISSUE OF OK! — ON SALE EVERYWHERE NOW!