NEWS
Michael Lohan Continues His Desperate Attempt to Help Lindsay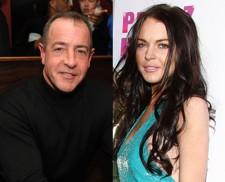 Michael Lohan has held another formal press conference today in an attempt to reach out to his daughter Lindsay Lohan, who he feels is in serious danger because of her unhealthy lifestyle. He told reporters in Westbury, N.Y., that he will do everything and anything needed to make sure Lindsay goes to rehab.
"I've tried every way possible to reach out to my daughter," Michael told reporters at the press conference. "I'm her father, and I lover her."
Article continues below advertisement
He explained that Lindsay is in a very "difficult place"right now and doesn't want her life to end tragically, like Brittany Murphy or DJ AM.
OK! NEWS: LINDSAY LOHAN STARTS TWITTER WAR WITH GEORGE LOPEZ OVER POWDER PUMPS
"I think we can all see and know what is going on with Lindsay," Michael said. "I get calls from her closest friends. It is a lot worse than any of us can imagine."
Michael said Lindsay reached out to him last week, after the incident where she fell into a cactus plant in the Hollywood Hills.
"She texted me last week when she fell into the cactus, 'Daddy, I need more security.' "
Michael explained Lindsay was running in heels, shielding herself from the paps when she fell.
"She stumbled," he insisted. "She wasn't in a drunken stupor."
Michael also addressed suspicions circulating that the abundance of white powder flowing out of Lindsay's high heels.
Article continues below advertisement
"It helps her get her shoes on easily," he explained debunking reports that the suspicious powder could have been cocaine. 'Women put powder in those."
Michael continued to reach out to ex-wife Dina Lohan through the conference, urging her to join him in a united front to help their struggling daughter.
"Sometimes Dina and I are best friends when she gets what she wants, and sometimes we're not and it's all about money."
OK! NEWS: MICHAEL LOHAN CHEST PAIN SCARE
Dina feels Lindsay does not have a problem and reached out to TMZ in an outrage during Michael's live conference.
"I have a criminal protective order against him 'til 2011," Dina said. "He's one year behind in child support and he's using this Lindsay's problems as a diversion."
"Lindsay is in good hands. Everything is fine," Dina continues. "He's trashing a child he doesn't even see."
Article continues below advertisement
Despite Dina's claims, Michael's message and resolve remains strong.
"It's about time for the people around Lindsay that think she is okay and are out with her at night to stop enabling her," he demanded. "I'm putting the people around her on notice... if something happens to her, I'm holding you accountable."
Michael said he has been in contact with a number of professionals including celebrity rehab specialist Dr. Drew Pinksy.
So what is the plan? For Lindsay to spend time in a private rehab facility in Long Island, N.Y.
"The plan I have in place is not a traditional rehab because they don't work," Michael explains. "A private setting away from everyone else... she needs detox, blockers to keep her away from this stuff and rehab... rehab for the family."
He also addressed reports of an obituary circulating for Lindsay because of her current state.
Article continues below advertisement
"Can you imagine that your daughter has an obituary that they are writing already? How upsetting is that?"
Michael pleads for Lindsay's surrender and hopes to sit down together with their attorneys to settle a rehab plan.
"I'm at the point now where Lindsay doesn't have to be ready...what are we supposed to do, wait, and wait and wait until something horrible happens?" he said. "I'm not gonna stop. I will never give up. She is my kid. I know what kind of gifts she has."
According to TMZ, although Michael says he's made arrangements with Lindsay's lawyer, Shawn Chapman Holley — it's not true. Shawn has told Mike that she reps Lindsay — not him — and will do as her client instructs.
Looks like Michael has a lot of work ahead of him, but he isn't stopping.
OK! NEWS: MICHAEL LOHAN — "MY DAUGHTER NEEDS REHAB FOR AT LEAST THREE MONTHS"
"I don't care what she thinks of me now... she may hate me now, but she will love me later," Michael said. "When she has her life back and doesn't succumb to the same fate other people have. She will thank me in the end and that's all that matters."