NEWS
Michael Lohan to Dish on Jon Gosselin in Court?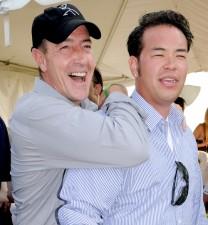 Uh oh, is there going to be trouble in BFF paradise for Jon Gosselin and new pal Michael Lohan? As part of TLC's breach of contract suit against Jon, they've subpoenaed Michael as a witness in their case. TLC claims the reality dad was making business deals in violation of their exclusive agreement, RadarOnline.com reports.
It doesn't look good for Jon: "He did deals with me," Michael tells RadarOnline.com."I was working on a deal with him for a Nutrisystem endorsement and a book deal. He got a paid a lot of money for different promotions, clubs, magazines, and by a TV network."
Article continues below advertisement
Jon & Kate Plus 8 advertisers were also reportedly complaining to TLC about Jon's recent behavior which they say interfered with production of the show.

Michael's playing innocent, saying he didn't know Jon would be in violation of his TLC contract.
"At times he said what we were doing was okay; at times times he said it was a problem. I guess that's why he got paid cash for so many of the personal appearances so no one would know.
"He would get paid between $2,500-$5,000 or even more," Michael claims. "Some casinos would give him poker chips. I was negotiating a deal for Nutrisystem but when the negative press came out Nutrisystem ran for the hills. We didn't get to the numbers with Nutrisystem but it would have been six figures."