NEWS
Michael Lohan Holds Press Conference Regarding Lindsay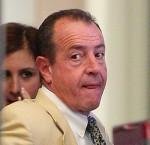 One moment that wasn't shocking whatsoever this morning, after Lindsay Lohan was carted off to jail again for violating her probation by failing two drug tests, her dad Michael Lohan took to the podium outside the courthouse to address her situation and lay blame.
Lindsay's chatty father inevitably has things to say about his daughter, his ex-wife Dina, and all the people he believes are to blame for Lindsay's problems, including lawyer Shawn Chapman Holley.
Article continues below advertisement
OK! GALLERY: LINDSAY LOHAN SHOWS UP STYLISHLY FOR COURT; HEADS TO JAIL
"Lindsay should have never ever had to face jail time, she should've been in rehab the whole time," Michael told reporters, adding that he'd rather he be in jail "eating a baloney" sandwich in the place of his daughter.
"I've made my mistakes myself and tried to fix them," he claimed, saying Dina had extorted him constantly. He also brought along a youth pastor who felt the need to talk about the situation as well.
Michael also said Lindsay going to NYC for Fashion Week and staying unsupervised in a hotel was partly to blame, and that she shouldn't be allowed to see the same people and go to the same haunts she's used to, if she's going to get better.
He claimed that he and Lindsay have communication but wouldn't expand on that topic.