NEWS
Michael Lohan's Ex Wants Him Arrested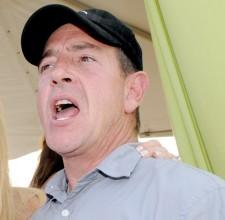 According to a police report obtained by TMZ, Michael Lohan's ex-girlfriend told cops, "I want him arrested." She also said she worried that after Lindsay Lohan's dad allegedly called her in a jealous rage that he would "do bad things to me and my family."
According to the Suffolk County Police report, Erin Muller claimed Michael first called her at 11:30 a.m. on Sunday and "started harassing me, questioning me who I have 'been with, who's car was currently in my driveway,' things like that."
Article continues below advertisement
Erin told police that the first call lasted two minutes and the second call lasted five. She also said she recorded both conversations. Guess she must have learned how to from Michael!
Michael was arrested yesterday and charged with criminal contempt of court, but he claims Erin is lying and that she actually called him.