NEWS
Michael Phelps: "I'm Not Dating Amanda Beard."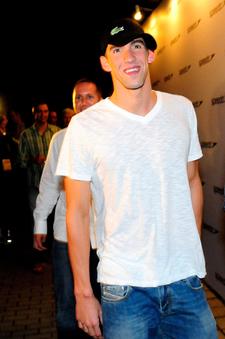 First, the good news: Michael Phelps is not dating Amanda Beard. The bad news: the Olympic powerhouse is staying mum when it comes to question of his love life.
The eight-time gold winner in the Beijing Olympics opened up to Extra's Dayna Devon just enough to dispel the rumors that he's involved with fellow Olympian Amanda Beard.
"No, I'm not dating Amanda Beard. I'll say that. I think she has a boyfriend," he says in the interview, airing tonight. But as to whether he's still on the market, Michael responds, "Part of my life is kept to myself. I'm able to relax and be with my friends. Those pretty much are the only people who really know the answer to that question."
Article continues below advertisement
So who would Michael pick to play his love interest in a movie based on his life?
"Cameron Diaz seems pretty cool. She seems like she has a cool personality????," he tells Dayna.
Catch the full interview on tonight's Extra, and get the latest on Michael and more celebrities at extratv.com.