NEWS
Michael Vartan Gushes on Upcoming Wedding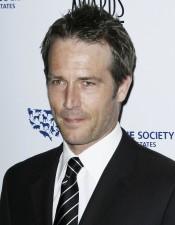 Previously linked to his Alias co-star Jennifer Garner, actor Michael Vartan couldn't be more excited to be engaged to his bride-to-be Lauren Sklar and can't wait to start planning the big day.
"I feel wonderful! I feel very blessed. I feel like it's about G-d damned time I met someone special," Michael gushed to OK! at the Genesis Awards on Saturday night in L.A.
The Hawthorne star, who plays alongside Jada Pinkett Smith, couldn't be more excited to actually plan the wedding claiming that, "it should be the most fun time of your life!"
Article continues below advertisement
"I'm excited about throwing an engagement party, I'm excited about choosing the bridesmaid dresses, and what kind of knives and food," Michael told reporters at the Beverly Hilton Hotel.
And while the couple only announce their engagement this month, Michael is already worried about the seating arrangements after the ceremony.
"The hardest thing about planning a wedding is where you're going to seat the people! Who's going to be seated with who. It's like playing Chess. You can put your family with whoever and they'll be fine, but then those people in the middle. Are they going to get along?" Michael vents to reporters.
But all in all the 41-year-old, who, "absolutely" wants children, is just glad that he found such a genuine girl that fits all of the criteria on his checklist.
"She's a wonderful girl and she's a dog lover as well which was definitely one of the criteria on the list, so it's great."