NEWS
Michaele Salahi Fired from "Celebrity Rehab"; Husband Tareq Salahi Says It's Illegal, May Sue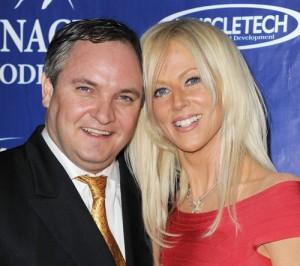 Alleged White House party crasher and former Real Housewife of D.C. Michaele Salahi has been booted from Celebrity Rehab with Dr. Drew Pinsky, and her husband Tareq Salahi is not happy. Tareq is defending his wife and has suggested he may sue Celebrity Rehab as he believes his wife was fired from the reality show because of her "health condition."
Michaele has said she suffers from multiple sclerosis, and according to Tareq that was the only reason she went on the show and that was what Dr. Drew was supposed to treat her for.
Article continues below advertisement
OK! NEWS: CELEBRITY REHAB KICKS OUT MICHAELE SALAHI
"Michaele was fired due to her health condition, which is a violation of the Americans with Disabilities Act," Tareq and his lawyers said in a statement, via TMZ.
Tareq has also been quoted as saying his wife is only addicted to chocolate, which would suggest she wouldn't need rehab. Dr. Drew usually treats celebrities dealing with drug, alcohol and/or sex addictions.
Unless Michaele had an unhealthy relationship with her MS medication, which there is no record of, many wonder why she was included on the show in the first place.
Tareq told Radar Online, his wife "was really leaning on Dr. Drew, who is a respected doctor, to get her through some of the issues after the White House, when she went to Congress, when she went into relapse with her multiple sclerosis. She takes this very seriously."