NEWS
Michele Bachmann Trades Jokes With Jimmy Fallon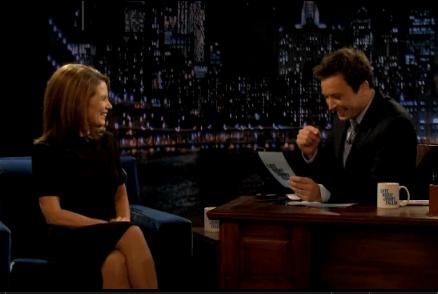 Jimmy Fallon welcomed Michele Bachmann to his show last night. The presidential candidate is a little more controversial than some of Jimmy's typical guests, which made the interview a little more fun to watch!
OK! NEWS: JIMMY FALLON RELEASES NEW SINGLE "(IT'S NOT MY) BABY" AS JUSTIN BIEBER
During a game called One Word, Jimmy rattled off a list of Michele's rivals in the presidential race. Michele seemed to get more comfortable speaking her mind as the game went on. First up was Mitt Romney, to which she replied first "hair" then "vice president." For Sarah Palin, Michele said "gorgeous."
Article continues below advertisement
The congresswoman drew laughs when asked to come up with one word for Texas Governor Rick Perry, poking fun at his recent gaffe during a presidential debate last week when he couldn't name all three federal government agencies he promised to eliminate.
"Perry," Jimmy said.
"That's not one word, I've got to do three," Michele said. "Governor, Texas — can't remember the third."
OK! NEWS: JULIANNE HOUGH TELLS JIMMY FALLON HER FAMILY IS LIKE "THE BLONDE OSMONDS"
However, when asked for the first word that comes to mind at the mention of President Barack Obama, Michele said "finished," which elicited some boos and groans from the audience.
What did you think of Michele's jokes? How did she fare as a guest on Late Night With Jimmy Fallon?