NEWS
Michelle Obama Donates Her Inauguration Gown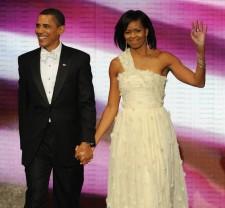 First Lady Michelle Obama has given away the one-shouldered white gown she wore at the balls commemorating President Barack Obama's inauguration last year.
Michelle donated the white dress by Jason Wu to the Smithsonian Institute where it will be displayed at the National Museum of American History as part of an exhibit showcasing gowns worn by first ladies from Mamie Eisenhower onwards.
Article continues below advertisement
"I am very honored and very humbled, but I have to say that I'm also a little embarrassed by all the fuss being made over my dress," said the First Lady at the presentation ceremony on Tuesday. "Like many of you, I'm not used to people wanting to put things I've worn on display."
"But, at the same time, I truly recognize the significance of this day," she continued. "This gown — and all of the items that we'll see in this wonderful exhibit— help us connect with a moment in history in a very real way."
OK! NEWS: MICHELLE OBAMA'S DATING ADVICE: CUTE ISN'T ENOUGH
"When I look at my gown — which I, in fact, have not seen since the day that I took it off — memories of that moment truly come rushing back," she added. "I'll never forget the moment that I slipped on this beautiful gown.
"I remember how just luscious I felt as the President and I were announced onto the stage for the first of many dances. And I'll cherish that moment for the rest of my life."