NEWS
Michelle Obama on Toned Arms & Harry Potter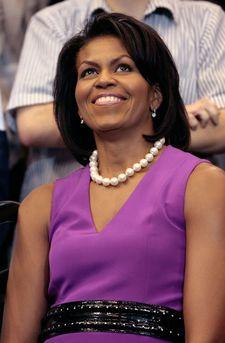 Michelle Obama is a pretty well-rounded lady. With a husband campaigning for the White House and two daughters to raise, the 44-old is proving when it comes right down to it, she's mom more anything else.
In a new invterview with Momlogic.com, Michelle shares her experiences on everything from parenting, to marriage, to how she keeps in such great shape!
"I go to the gym three times a week," she says. "I work with a fabulous trainer for about an hour session each. We do a lot of cardio and weight training. For me, exercise is more than just the physical--it's theraputic.
Article continues below advertisement
Mrs. Barack Obama is used to being in the public eye. But with her husband running for president of the United States, Michelle has found herself thrust into a whole new category of public scrutiny.
"When you're out campaigning, there will always be criticism," she says. "I just take it in stride, and at the end of the day, I know that it comes with the territory. Barack and I have been in the pubic eye for many years now, and we've developed a thick skin along the way."
Michelle continues, "Growing up, my mother always taught me to work hard to achieve my dreams and to never let anyone tell me that I couldn't do something. "It's definitely the most valuable lesson I've learned, and Barack and I work to instill that same confidence and sense of self into our girls each day."
There is a lighter side to Michelle that most people might not realize. Of her new fame she says she's most surprised by "The fashion icon thing. I've always loved clothes and it's very flattering, but I never would have expected that to come out of this campaign!"
She's also a devout Harry Potter fan!
"We love to watch Harry Potter, The Incredibles and Hannah Montana together," she says. "Barack and the girls have read every single Harry Potter book out loud together. But the girls will tell you, they only get an hour of television time each day--after their homework is finished."