NEWS
Michelle Pfeiffer Likes Being Paired with Younger Actors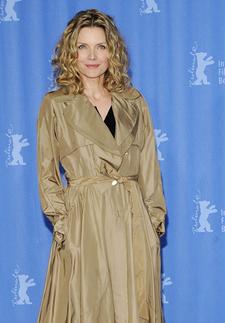 Michelle Pfeiffer is happy to be what she calls a 'mature' actress. The star, who turned 50 last year, says she feels "liberated" and that roles now offered to her are more interesting than before.
At Tuesday's world premiere of her film Cheri at the Berlin Film Festival, Pfeiffer said she also enjoys Hollywood's habit of pairing older actresses with younger men.
"It's a positive step, a step in the right direction," she said. "It seems my leading men keep getting younger the older I get. It seems people have an aversion about casting me with men my age. Lucky for me, I don't really mind."
Article continues below advertisement
Easy to say when you're as sexy as Michelle Pfeiffer! The actress says that while it's still true that the older you get, the fewer parts there are, there are also fewer parts for actors in general.
"The roles become more interesting the older you get," she said. "It's also at a time in my life when I'm not wanting to just work all the time, so it's all just fine."
Pfeiffer, who is married to producer David E. Kelly, took four years off from acting to spend time with her family before returning with two films in 2007.
MORE ON:
michelle pfeiffer
Cheri is based on a 1920 novel by French writer Colette, offering a glimpse into the pre-war era and entertaining insights into the fabuous wealth of courtesans.