NEWS
Michelle Puts Feelings On Screen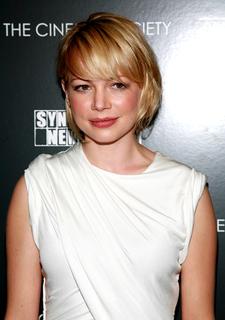 Michelle Williams has stayed out of the public eye in the last year, as much as she can, to shield her daughter Matilda Rose from the paparazzi while the family mourns Heath Ledger's death.
But in her latest role, Wendy and Lucy, filmed after her split from Heath in 2007, Michelle plays a sad, lonely character, and put a lot of herself into the role.
"It was a vulnerable time," she says in an interview with Newsweek. "I felt vulnerable but somehow strong. No, just vulnerable. It was a strange combination of one of the greatest summers of my life and one of the most excruciating summers of my life."
Article continues below advertisement
She also talks about Heath for the first time since he passed away in January, bursting into tears with the interviewer when asked how she's been doing.
I guess it's always changing," she says. "What else can I say? I just wake up each day in a slightly different place —grief is like a moving river, so that's what I mean by 'it's always changing'."
"It's a strange thing to say — because I'm at heart an optimistic person, but I would say in some ways it just gets worse. It's just that the more time that passes, the more you miss someone. In some ways it gets worse. That's what I would say."