NEWS
Michelle Trachtenberg on Her Sexy 'Maxim' Shoot: I Cut Pizza Down to Once a Week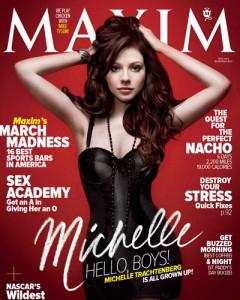 There's no mystery here — Michelle Trachtenberg looks hot on the March 2011 cover of Maxim! At the Rebecca Minkoff Fall 2011 show at Lincoln Center, Michelle spoke exclusively to OK! about how she got ready for her sexy shoot.
OK! NEWS: MICHELLE TRACHTENBERG'S MAXIM COVER — "ELEMENT OF SEXINESS & MYSTERY"
"I did hit the gym a little harder. Instead of eating pizza five days a week as my main (food) group, I cut it down to one day," she explained. "I tried to hydrate and constantly keep eating. I think that's what people forget to do. You have to keep your metabolism going and eat all day long, which is really great for me. I love food."
Article continues below advertisement
She also revealed to OK! that it was a little awkward having her guy friends see her in this new light.
"It's been very flattering. A lot of my friends like it or at least they have to say that. It's funny because a lot of my closest friends are guys, it's like ew it's kind of weird that you're watching this."
She was happy about some people seeing it — the bullies from high school!
Michelle explained candidly to OK!, "But for all the boys who ridiculed and tortured me in high school and bullied me to no end I'm thrilled to bits they get to see that now."
OK! GALLERY: BUFFY SISTERS MICHELLE & SARAH MICHELLE REUNITE TO SHOP
What's next for her?
"I'm actually producing several of my own projects, going behind the cameras which is great. And Take Me Home Tonight is coming out and of course there's always more Gossip Girl."
We can also expect a new project with Gossip Girl co-creater Josh Schwartz! "Not a spin off another show. We are all producing together."
Hopefully it's as juicy as Georgina Sparks!
Take Me Home Tonight comes out March 4.
Check out the trailer below!